College Grad Program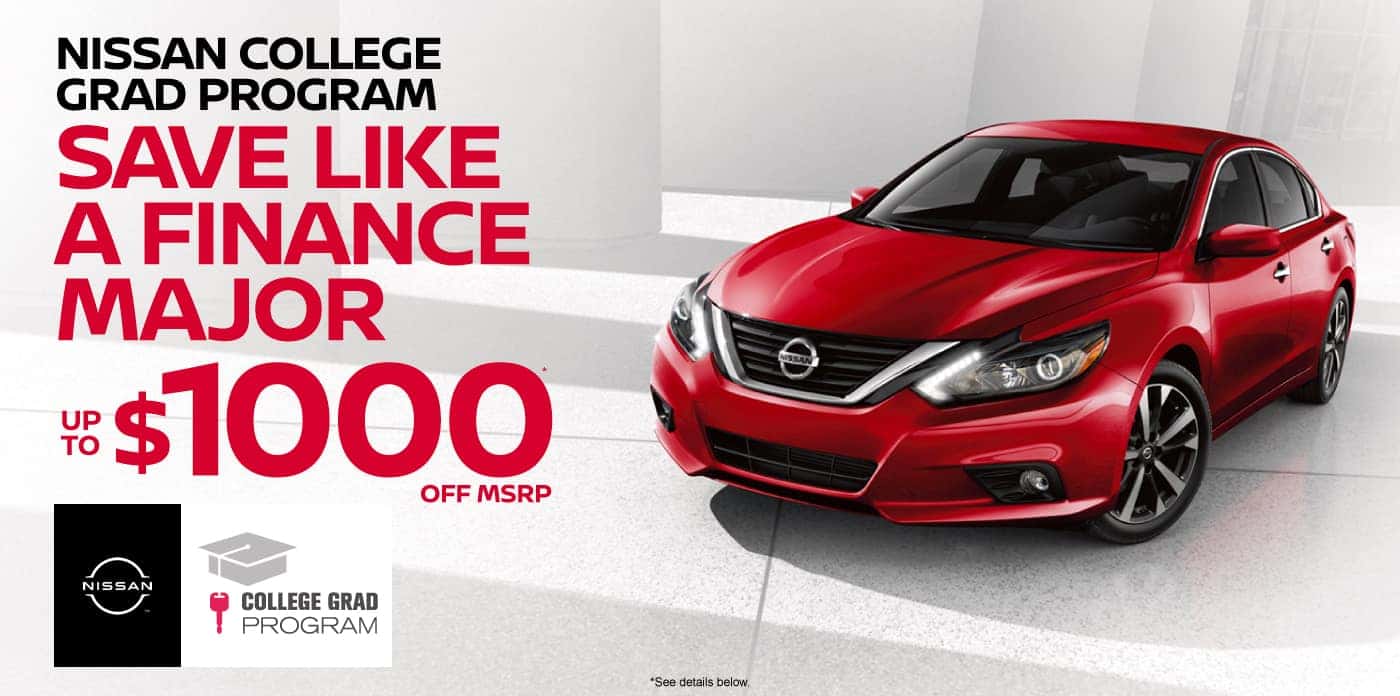 The Nissan College Graduate Program Helps You Save!
Nissan of New Braunfels wants to reward dedicated students for their hard work. That's why we provide College Graduates ways to save on our Nissan vehicles! If you have graduated within the past 2 years or will be graduating within the next 6 months, then our dealership wants to provide you an incentive on your purchase of a new Nissan vehicle! Contact us to get started!
Let Nissan of New Braunfels Help You on your Journey
Whether you need to get to your new job, graduate school, or interviews, Nissan wants to help escort you there safely, efficiently, and elegantly in one of our reliable new vehicles. We have vehicles for virtually every need, whether you want a sleek sedan, stylish SUV, or a capable truck. Our friendly staff will work with you and answer your question without buying pressure because we know that car buying can be an intimidating experience, especially for first-time car buyers. That's why, at our New Braunfels dealership, we make it a point to ease your buying experience with assistance in vehicle selection, finance, and service after your purchase. Visit Nissan of New Braunfels to begin picking out your new ride!
College Graduate Program Qualifications: Do you pass the test?
You will qualify for the College Grad VPP if you meet the following criteria:
Graduation within six months or past two years from an accredited United States two or four-year university, college, graduate school or nursing school
Students currently enrolled in graduate school are eligible
Present employment or future employment beginning within 90 days of financing approval
Sufficient income to cover normal living expenses and car payments
Valid auto insurance
Approved credit
Be Prepared for your Paperwork
College Grad participants will need to provide the following Proof of Education when purchasing their vehicle. Here's what you'll need:
Proof of graduation within the past 24 months or written confirmation of upcoming graduation within the next six months
Proof of current or future employment that begins within 90 days
Proof of Insurance
Come by the dealership today so that Nissan of New Braunfels can congratulate you on a job well done!