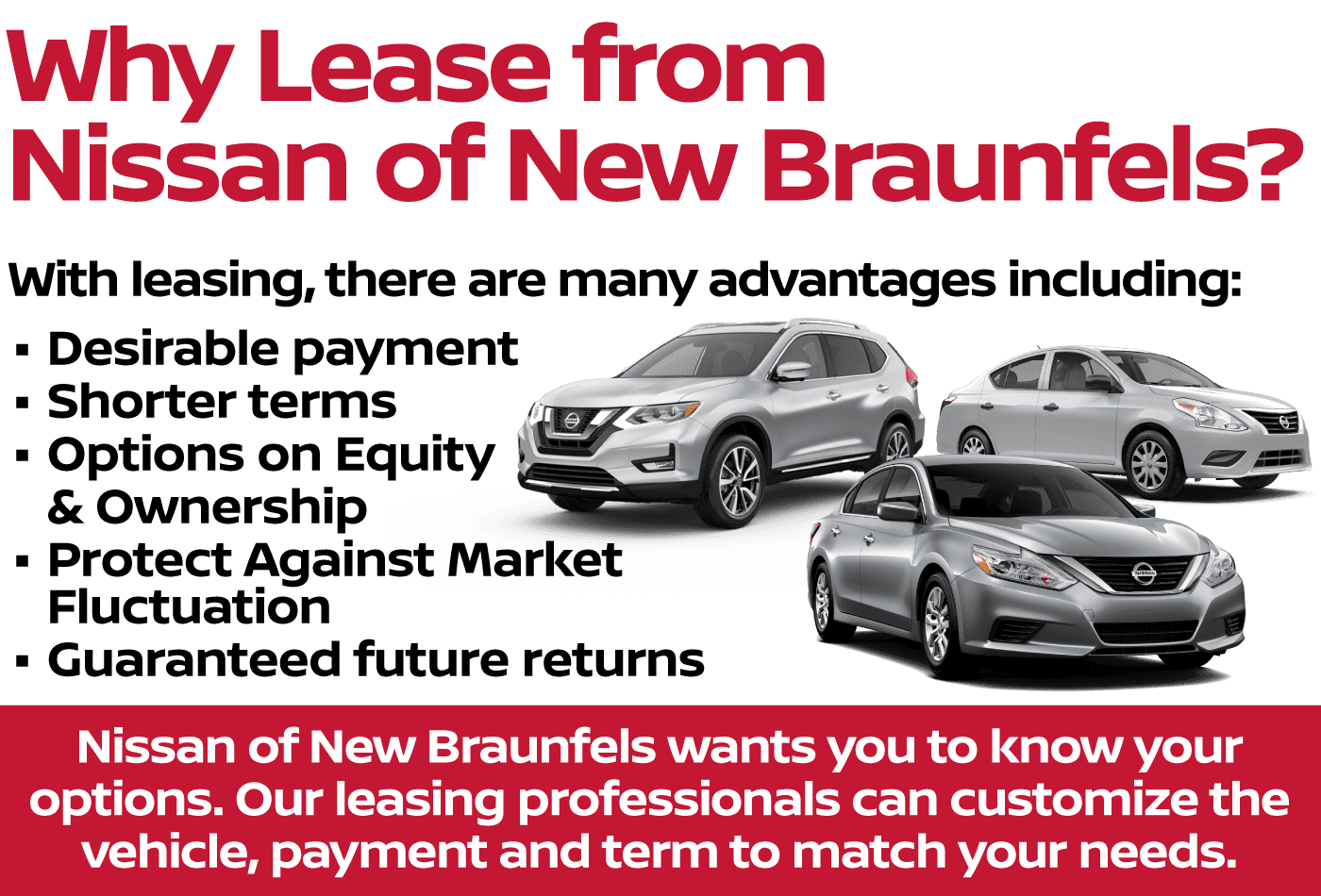 Nissan Lease Opportunities near San Antonio, TX
Do you love that new car smell? Do you like always driving the most technologically advanced vehicles? Do you dislike long-term car commitments?  Leasing could be right up your alley! When you lease a Nissan from Nissan of New Braunfels, you are getting the latest and greatest vehicles that we have to offer. You will have all of the technology, performance, and design advances that are available right at your fingertips.
What Are Some of the Benefits of Leasing?
Leasing a vehicle rather than purchasing one does have come with benefits. To start with, you can save money because leases may not require a down payment or if they do it's usually substantially less than a purchase down payment. Normally, you also end up paying less sales tax leasing compared to buying the vehicle outright. In addition to those savings, the costs of your monthly payments are often lower than a purchase monthly payment. What does this mean? You are getting a more modern vehicle for less money overall! To top it all off, your vehicle is always under the period of the included factory warranty. This means the warranty can cover you if you are in need of repairs and maintenance. Just bring it over to our service center, and we can hook you up!
Change it up! Since these contracts are short-term and only last between two and four years, you can switch out the vehicle that you are currently leasing and make the easy transition into another new Nissan. You even have the option to buy out the value of your currently leased car if you have fallen in love with your leased vehicle! Or if you find you aren't in need of a vehicle at the end of your lease, you can turn the vehicle in and walk away. We put the power into your hands to decide what you want to do with your lease.
Start the Process Today at Nissan of New Braunfels
Are you ready to learn more about a Nissan Lease or take a test drive? Come on by Nissan of New Braunfels today! If you are in the San Antonio, Seguin, or Boerne, fill out our finance application form and get the process started! We will be here for any questions you may have.