Why Buy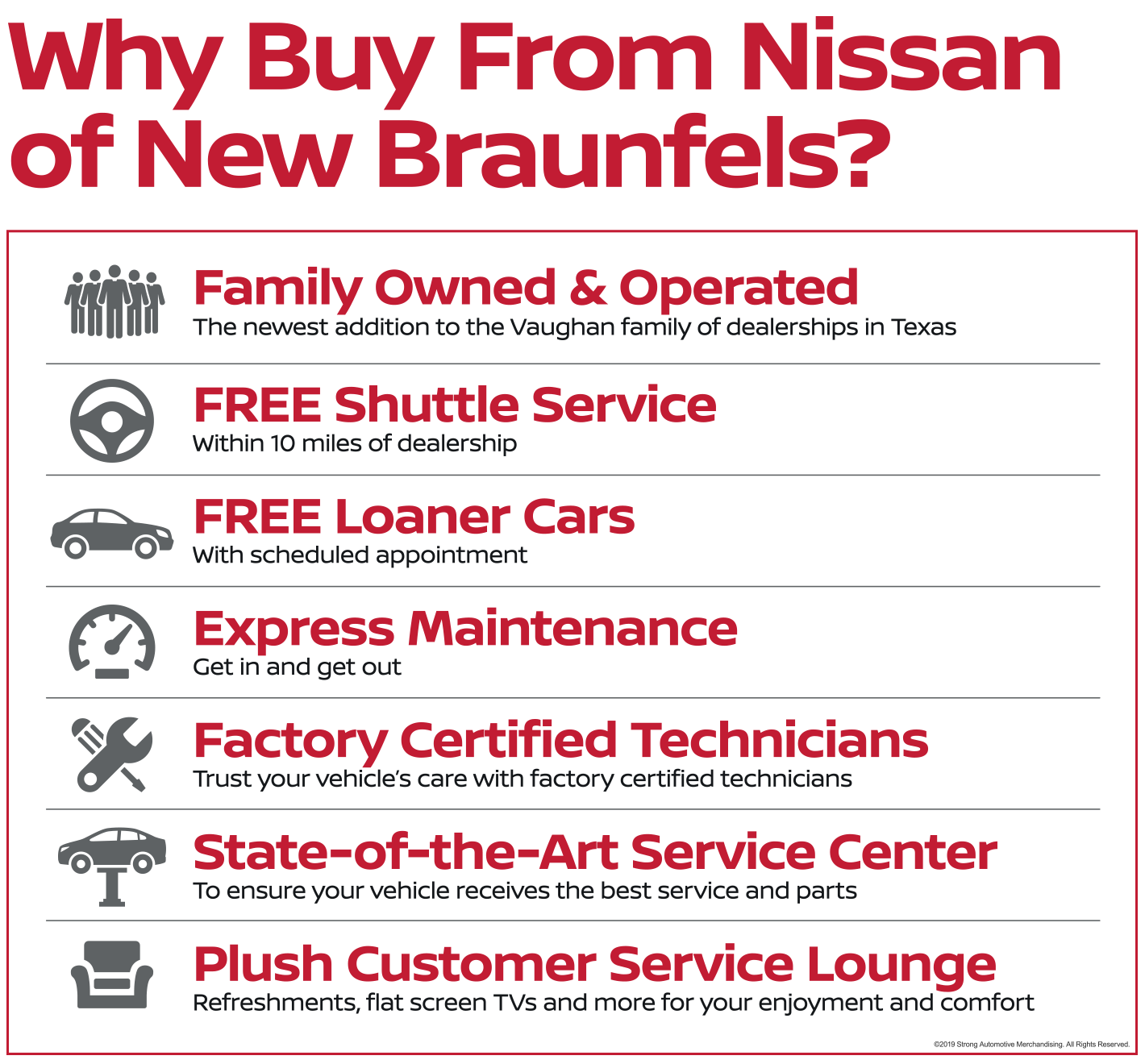 Why Choose Nissan of New Braunfels?
When it comes to vehicles, you can be certain you are getting a quality service and a quality product at Nissan of New Braunfels. Our staff is kind and helpful, our selection is plentiful, our inspections are extensive, and our focus is family. We are able to provide these services with this amount of dedication because we have experience in business and customer satisfaction. Nissan of New Braunfels is after all the latest addition to the Vaughan/Guerra family of dealerships. We know that the customer's experience is what keeps our dealerships in business year after year which is why we focus on you and your needs while you are here.
Where the Customer Comes First
When you walk in the door, our focus turns to you. You are the reason we come into work in the morning and we believe in treating our customers with the utmost respect and integrity. If you are searching for a specific vehicle our staff will assist you and help you decide on the right trim for your work and family needs. Our staff is incredibly well versed on each of our models and their features and will listen to your needs and explain which ones may suit you and why. We will set up a test drive so you can be certain of your purchase. We help you make an informed decision on the vehicle of your choosing so you can drive out with confidence. Our finance department will work with you, no matter what your credit score may be, to get you fair financing terms. Finally, our brand-new facility also has a comprehensive Service Center for you. Whenever you encounter struggles on the road or are just in need of routine maintenance, our certified technicians will get your car back into tip-top shape so that you can conquer the roads of New Braunfels. Furthermore, our technicians will explain any issues your car may be having and make the necessary repairs with quality Nissan parts at affordable pricing. We do our best to get you into the right vehicle, with the right features, at a price point that fits your budget. We want you to be a part of our family and family always comes first.
Our dealership is Ready to Serve the San Antonio Area
As you can see, our dealership is concerned with our customers and their experience as well as providing a quality service to our customers. Whether it be financing, buying a vehicle, or maintaining a vehicle, Nissan of New Braunfels is looking out for your interests because it is in our interest to provide customer satisfaction year after year. Come see us today to start your experience with us!